It is now a year since our daughter Emmie came into our lives. I know I am not the only Mum to say that I really don't know where that first year has gone! So I am beginning to grow nostalgic already for my beautiful new baby girl who is fast becoming a toddler (and who thinks she is a little adult!). I have started to reflect on the last year, the ups and downs but also the generosity of our family and friends who have contributed to this amazing year in so many ways.
Don't worry, please don't stop reading here as I am not going to recount all of my memories to you. But part of this were the fabulous new baby gifts we were given. Then there were some fantastic products that we stumbled upon or friends had and found invaluable. I thought I would include a few of these in this blog to give you some ideas of what would be really useful or memorable gifts for babies.
The Baby is Born…
Flowers are traditional to send straight after the birth of a new baby and we received some beautiful flowers. If you decide to send flowers then an arrangement is better than a bouquet. In our experience, it was all we could do to look after the new baby, never mind look after the flowers. One bouquet stayed in its cellophane wrapping much longer than it should have. An arrangement meant that we just had to water it which was manageable.
If you would like to get a gift for Mum and baby as soon as the baby is born then these Baby Blooms are a really great alternative gift to real flowers. We received these and loved them. Not only are they as beautiful as real flowers, they are also useful as they are baby grows, bibs, socks and mitts. And best of all they need no tending to!
Clothing
There are few things cuter than baby clothes and there are some really beautiful little outfits out there. There are a few guidelines though to buying baby clothes that I didn't really consider before I had a new baby. So I thought I would share these with you here.
From my experience the most helpful baby clothes we received where ones that were a size or two larger than her age. We received some really gorgeous 'new baby' baby grows but she wore them for a day and then outgrew them. It broke my heart to put them away after so little use. It was lovely to get more wear out of the 3-6 month and 6-9 month outfits we received.
The second thing to consider is if you are buying an outfit that is bigger than their current age, you need to make it season appropriate. Again, we received a beautiful summer dress in size 6-9 months which was November to January and again I looked at it longingly but it was sadly put away without wear.
Lastly, this is not a guideline but more of tip. Having a new baby can be expensive. When there were so many other costs to consider, I baulked at buying expensive clothes for Emmie myself. However, I loved receiving beautiful designer outfits from others. If you are considering giving clothing as a gift, perhaps consider one of the more upmarket brands as an extra treat.
Having gone through these guidelines, here are a few suggestions that would make beautiful New Baby gifts.
Clothing Ideas
Emmie received a gift of this Petit Bateau cardigan and one of our friends also received a gift of the same cardigan in a different colour. Petit Bateau is a beautiful baby clothing company which is more on the pricey side but they do fantastic items. This cardigan was so versatile, it is ideal for both winter and summer so you don't need to consider the season. Emmie has now outgrown hers (she is larger than the average baby) but our friends baby is still wearing hers well past the stated size.
The White Company also do beautiful new baby clothing. Emmie received a beautiful cardigan and dressing gown which she still wears now.
Alternatively, there are some really fantastic small designers and makers out there who make really beautiful outfits. How great would it be to receive a gift of limited edition handmade clothing?
Clothing Accessories
It may have just been me but I didn't think too much about hats past the new baby hat they are given when first born and the matching tiny hats that come with the oh-so-cute baby grows. When it came to a few months later, I realised that we needed a sun hat. Then a few months down the line again, we needed a winter hat. It made me think that these would be really nice gift ideas.
JojoBebe Maman Summer Hat – This is our second JojoBebe Maman hat. I love them as they have strings to tie on and so they mostly stay on. They are also factor 50 and because Emmie is very fair, I feel confident that she is well protected from the sun. We have tried other makes but they don't stay on and don't fit as well.
Boden Winter Hat – Likewise, we have been through many winter hats and this is the only one that she doesn't try to pull off all the time. It is fleece lined, soft and cosy. The button under the chin also helps keep it on. Obviously at the time of writing this winter hats are few and far between but if you are reading this approaching winter again, check out Boden's website for these great hats.
Coats and wraps
Putting coats on a baby is such a faff and even more of a faff when you have to take it off when putting them into the car seat for safety reasons. I endured the winter taking on and off coats before realising there were products on the market to help with this. Although I didn't use one of these products myself, friends did and I wish that I had one of them for Emmie. I think one of these would make a great gift for a baby at any time but especially coming into the winter season.
I love this as it works with the straps on the car seat or buggy and keeps the baby nice and cosy. The baby is not able to kick the Morrck off like they would a blanket. The hood is a great added benefit to keep the little ones head warm.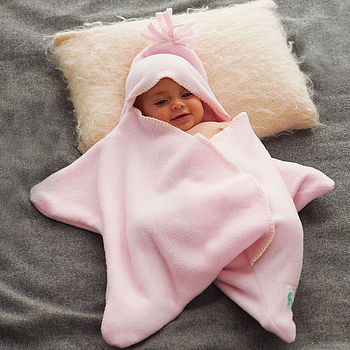 A friend of mine had this and I was instantly taken with it. It is such a good idea and it took her less than half the time to put her baby into it than it took me to put Emmie in her button up snow suit. The website says that it is suitable for use with a car seat (with proper checks) which is an added bonus.
Shoes
Baby shoes are the cutest things ever. In reality they are completely useless until the baby is about 9 months old. If you really succumb to teeny tiny baby shoes, make sure they are from 3 months on. You can ideally pair them up with a matching outfit so there is a reason to wear them.
Emmie received a gift of Shoo Shoos which is a South African brand of shoes and they are brilliant. They are the only shoes that she owns that actually stay on her feet and they are a beautiful soft leather so soft enough for her current tippy toe wobbly walk. I would definitely recommend them as a gift. You can get them in the UK from the Little Chic website.
Other Accessories
Baby Muslins
Muslins are a must have for babies. Ours have mopped up everything and anything and we don't leave the house without one. Although we did not receive them as gifts, these decorated muslins from Jojobebe Maman are so pretty and would make a fantastic gift. Most muslins are fairly plain and so these are lovely to take out and about. They also help ensure that they are not confused with anyone else's.
Gro Egg
My sister gave us a Gro Egg as a gift and we can't be without it. I can't be the only parent who frets about the temperature of the nursery. The Gro Egg is great as it is really visual so you can tell if the temperate is ok just with a glance. I definitely recommend it as a great gift for any new parents.
Gro Snug
Can you tell I love the Gro Company? I also found the Gro Snug fantastic. We weren't sure about swaddling Emmie so this gave us the versatility to try swaddling. As it turned out Emmie hated being swaddled so we were able to use it as a normal Gro Bag. Again, this
would make an awesome gift.
Toys and Books
Books
I love books and I believe you can never be to young to learn to love books. We received some fabulous fabric books for Emmie which she adored. Books are always a great gift and no matter if they are for when they are a little bigger. It is something to look forward to. We read to Emmie from when she was very small and although she did not understand, she enjoyed listening to our voices and as time went on, seeing the images. Now she interacts with us when we read to her and it is very precious time spent together. There are hundreds of books out there but I think this one was super for very early 'readers'.
Soft Toys
My personal advice on soft toys is please gift something other than a soft toy. Don't get me wrong, I love soft toys, some of them are meltingly cute but most people don't have tonnes of storage space and therefore space for soft toys is limited. Not everyone will read my blog so inevitably the baby will receive soft toys anyway. If you can think of something else then do that.
New Baby Decorations
Decorating the nursery was a labour of love for me. I love to craft and so I spent most of my pregnancy designing, sewing and paper crafting. Most of my friends and family knew this and so stayed away from nursery decorations as gifts but there are a few items that I thought would still make beautiful gifts for others. Mostly because they are hand made and personalised.
Baby Quilt
One of the most treasured gifts we received was from Emmie's Granny Africa. She had a beautiful quilt hand made in the colours of the nursery (quilting is a skill that takes more patience than I can muster). This is a really beautiful gift idea if you know the theme and colour scheme of the nursery. Here is one from AnneLise Quilts on Folksy that looks a little similar to our beautiful quilt and gets good feedback.
Baby Art
There are some lovely handmade, personalised ideas out there to help decorate the nursery. It is such a lovely gift to receive a personalised or handmade item made specifically for the recipient and these particularly caught my eye.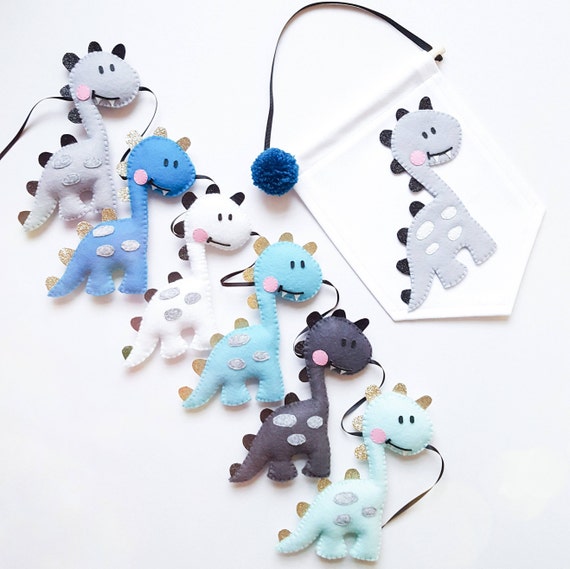 Nursery Garland
This garland is just gorgeous, especially for a dinosaur themed room. Noodle Doll Nelly on Etsy does other themes too including ice-cream garland which is also lovely. This would make a really fabulous new baby gift.
Nursery Picture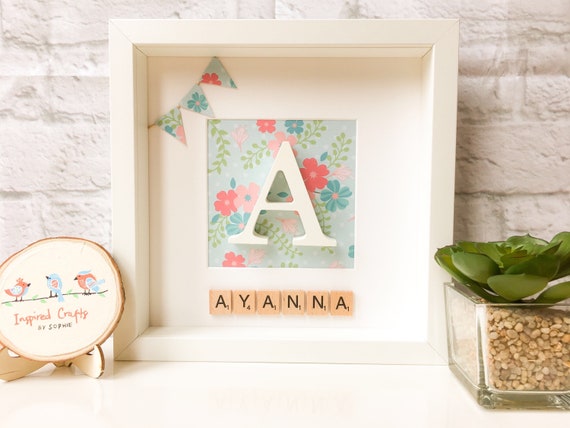 This beautiful framed initial and scrabble tile name from Inspired Crafts by Sophie on Etsy is also a really lovely gift idea. There are a selection of backgrounds to choose from so you can personalise it even further if you know the colour scheme of the nursery.
New Baby Cards
As always I like to advocate hand made cards. Much love goes into them by the maker and they are lovely to give especially to new parents. Here are a couple that I really liked.
I hope that these ideas have inspired you when choosing your next new baby gift. If you have any other ideas that would make a great new baby gift, do please get in touch or leave a comment below. I love discovering new products that would make great gifts.
Also, if you liked this post, please check out some of my other blogs with lots of other ideas or if you just wanted to know more about gifting etiquette, find out here.